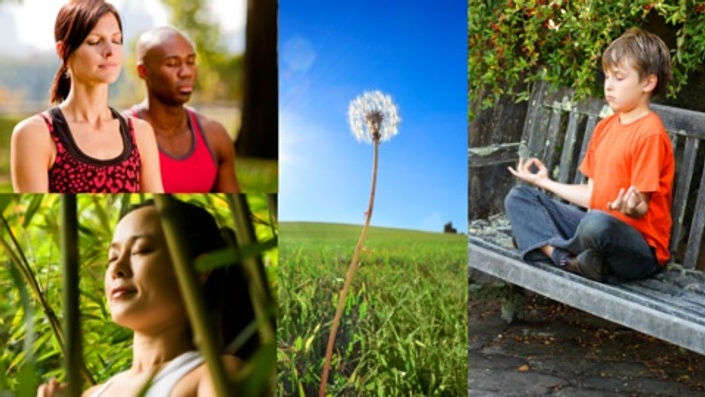 Meditation Made Easy
Learn five different techniques that you can use anytime to reduce stress and improve your health.
Watch Promo
"I found the material to be filled with wisdom, a clear heart and life changing tools. Loved Camille's voice and the meditations too. Two thumbs up!" - Allen Soule, Founder, Soule Communications
You're busy. Very busy. So an online course about meditation has to fit your schedule. The practice has to be simple with immediate results. It has to be worth your time.
You need Meditation Made Easy. This course does just that.
Stressed? Stress is the single biggest factor in our everyday living. The statistics are staggering. Stress is chipping away at your overall wellness but it doesn't have to.
In just 15 minutes, you'll understand more clearly what really causes stress, discover the role your mind plays in stress and what you can do about it and realize the difference between good stress and bad stress.
This is Mediation Made Easy. Six 15 minutes lessons, chock full of mind changing information that will empower you in the face of stress. Plus, I'll teach you five easy to learn, 'use on the spot' exercises that will help you come back to center and find your calm. And you'll experience these benefits in sixty seconds!
Need more? The stunning list of the scientifically proven benefits of meditation is the greatest motivation!
Reduce and better manage your stress. Lower your blood pressure. Sleep better. Strengthen your immune system. Sharpen your memory. Gain mental clarity. Increase positive emotions. Decrease anxiety and depression
And there's more!
High school kids are doing it. Mother's are doing it. CEO's are doing it. Athletes are doing it. Now, you can do it!
Come learn how to meditate and improve the quality of your life!
It's the greatest investment you'll ever make. Guaranteed.
Contents
Meditation Made Easy Course Introduction Video!
Available in days
days after you enroll
Course Information and Helpful Learning Tips
Available in days
days after you enroll
"I was skeptical about Camille's promise that I'd be experiencing the benefits of meditation in just sixty seconds. Turns out, it's true! I love the vibrational tune up that comes with the mantra meditation too!" Nancy Ludwig, Nutritionist
Your Instructor
What I Believe: I believe we're meant to live a joyful life and that the "key to happiness" is the reconnection with our True Self. Everything I'm about leads back to the inner life and the practices that bring us home. When you're willing to change your thinking and open up to a greater perspective, you gift yourself with new life skills that empower you in your everyday living like never before! I'm excited about showing you that greater perspective!

What I Have for You: I've taken twenty years of learning from the masters and my own life journey and have created personal transformation courses, life, business and group coaching, workshops and inspirational talks that have helped hundreds of people awaken to a more meaningful life through the understanding of universal laws and principles, the power of looking at life in a fresh, new way and the importance of spiritual living practices like meditation.
Why It Matters: Spiritual education is one of the catalysts to awakening because it replaces ignorance with understanding and reveals the oneness of all life. The material world is the one we live in. The spiritual world is the one we come from. Once you understand how life works, you can align yourself with its nature and experience the joyful life you're here to live!
"Before this course, I was an "I can't meditate" person. During Camille's course, that changed to "I can meditate!" and now that I've finished, I'm happy to say that I am meditating! Amy Young, Marketing Strategist
"Camille's information about stress really helped me see my life from a fresh perspective. The Breathing Meditation is a life saver!" Patty Bran, Retired
Ready to reduce your stress and improve your health?
Join the thousands of people just like you who have made meditation easy!


Click "Join the Community" and enroll now!